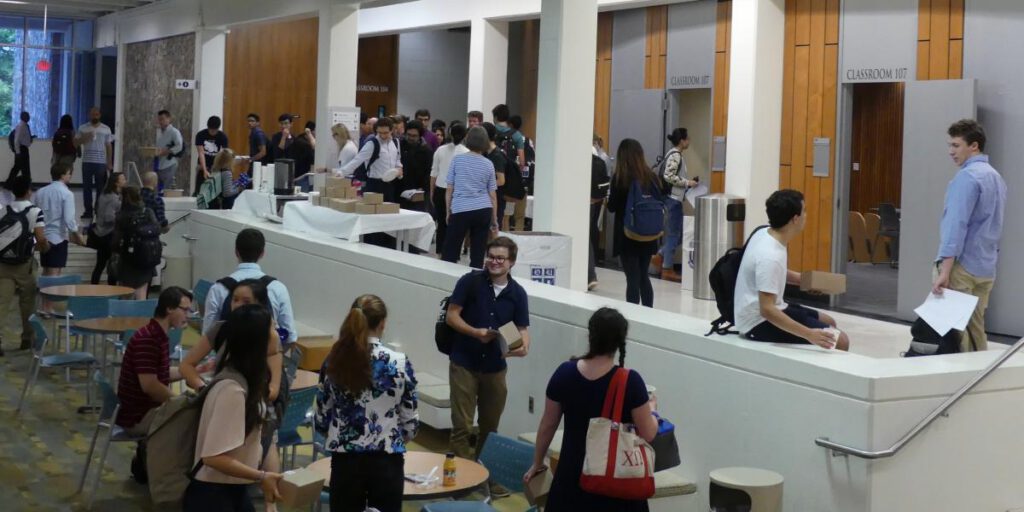 On May 22, the Data+ 2017 Summer Program began with a Kickoff Breakfast attended by participants, clients, potential clients, faculty, and Duke administration.
This year's Data+ program has 25 interdisciplinary Data projects, ranging from health applications such as Predicting Pancreatic Cancer, public policy applications such as the work of the Ghost Bikes team, and also smart phone assisted digital rejuvenation of medieval paintings.
With such a wide range of data projects, students are encouraged to begin collaborating with one another right away. During the Data+ Kickoff Breakfast, each team introduced their members and talked about what they would be working on over the summer. Project teams are grouped together by common coding languages, and each team has a designated work area in Gross Hall.
Read further for highlights of the first two weeks of Data+, and what some of our project teams are working on!
Controlled Substances Monitoring Visualization Team Visits Duke Hospital
On May 23, Duke Professor of Anesthesiology Dr. Cory Maxwell took the Data+ 2017 Controlled Substances Monitoring Visualization Team on a field trip to Duke Hospital and Duke Medical Pavilion to see what Omnicell devices (drug dispensing machines) look like and how they are used.
Team members Jacob Sumner, Juliana Zhang, Jing Lyu, and project mentor Willem van den Boom visited an operation room in the Heart Center, a drug dispenser used for Obstetrics, and toured the main Operating Room area, which is a collection of 54 operation rooms. There, they had a look at an Omnicell device in an operating room that was not in use, and also saw a heart valve replacement surgery in action. In between these visits, the Data+ team discussed the drug diversion problem with Dr. Maxwell and what their Data+ project is trying to accomplish, and how to go about it.
Ghost Bikes Team Meets with Durham Transportation Department
On Tuesday May 30, the Duke Data+ Ghost Bikes Team (Lauren Fox, Elizabeth Ratliff and Project Manager Collin Mueller) visited with their Data+ Project sponsor, the Bicycle and Pedestrian Advisory Commission of the Durham Transportation Department.
The Ghost Bikes Team met with Bryan Poole (Transportation Planner II, Bicycle and Pedestrian) and Dale Mckeel (Bicycle and Pedestrian Coordinator). They discussed their goals and deliverables for their Data+ 2017 project, and are thrilled to be working together.
Duke Professor Beka Steorts Gives Data+ Talk on Entity Resolution with Societal Impacts in Machine Learning
On May 31, Data+ students joined students from the Computer Science department to listen to Duke Professor Beka Steorts give a talk on Entity Resolution with Societal Impacts in Machine Learning.
Entity resolution is not only a crucial task for social science and industrial applications, but is a challenging statistical and computational problem. In this talk, Dr. Steorts described the past and present challenges with entity resolution, with applications to the Syrian conflict but also official statistics, and the food and music industry. Her work is a joint collaboration with researchers and Rice University and the Human Rights Data Analysis Group (HRDAG), and touches on interdisciplinary research that is crucial to problems with societal impacts that are at the forefront of both national and international news.
We will continue sharing our Data+ activities over the summer, please check in soon for more stories about our Data+ project teams! Learn more about all of the Data+ 2017 project teams results at the Data+ poster session on July 28th at 2 p.m. in the first floor of Gross Hall.